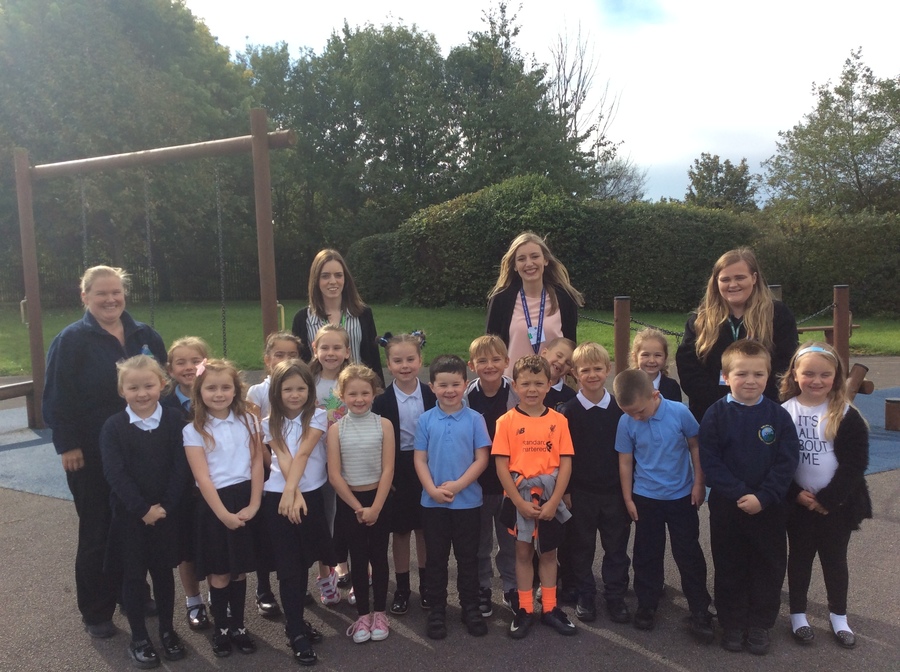 The Year 2 teacher is Miss James and the teaching assistant is Mrs McVeigh. During the Autumn term we also have Miss Miller who is our associate teacher.
In year two we are learning to become more independent both academically and socially. Each morning begins with an 'Early morning task' this includes guided reading, responding to marking; fine motor activities, learning time's tables and handwriting. All our lessons are taught through a creative approach; this makes our lessons more meaningful and gives us a real love for learning!
Our current topic for this half term is 'The Place Where I Live'. We will be having PE lessons on a Tuesday and a Wednesday. Children will need their full PE kit as we will try to get outside as much as possible. Please make sure that your children's earrings are removed before the PE session.
Weekly Timetable
• All children will be given times tables to remember, this year we are concentrating on our 2, 3, 5 and 10 X tables. These will be tested on a Monday alongside their common exception words.
• Please remind your child to take their reading book out of their bag and place it in the correct box, so we know what books need to be changed.
• Please ensure that you try to read with your child every night, we will try to change reading books every day, however at times this may not be possible. Please bear with us if your child's book is not changed in school that day, it will be changed as soon as possible.
• PE is on a Tuesday and a Wednesday. Children are asked to leave their PE kits in school every week and only take them home at the end of a half term.
• Children are given the option to have snack (toast, malt loaf, yoghurt or fruit) at playtime for a small fee of 20p per day. Alternatively they can bring a healthy snack such as fruit.
• We encourage children to also bring a water bottle to be kept in the classroom, they will be able to access this throughout the day.
World War 2
During WW2 week, Year 2 learnt all about the Homefront. We made some WW2 rock cakes, learnt about the roles of women and children and wrote an acrostic WW2 poem.
Fire Safety
Thank you to Mark, Brendon and Shane for teaching us all about fire safety!
Trip to the Park
Year 2 really enjoyed their trip to the local park!
Maths
We are enjoying learning to partition numbers in lots of different ways.
Programming
We are learning to program a robot along a path. So far we have programmed our friends to follow a simple obstacle course and then used our new skills to program a bee bot on the iPads. Well done year 2!
Peer Massage
Year 2 really enjoyed their first peer massage session.
Pirate visitor
On Wednesday a very special visitor came into year two. She was one of the characters from the story 'A New Home For a Pirate'. We asked her lots of questions about her life, now we know much more about the pirate lifestyle!
Acting out pirate stories
We have worked really hard today to act out our new story "The Night Pirates" in English.
Sketching using different materials
We enjoyed using our sketchbook to draw the train using pencils and charcoal, next week we will be using "Sketches" and "Doodle Buddy" on the iPads to sketch some of the other playground equipment using a variety of different effects, before finally moving onto printing some of our wonderful drawings. Such budding artists!
Maths
We have been working really hard in maths to count up to 100 using base 10. Well done year 2!
Thank you for visiting our class page.