New Member!
Our newly elected Year 5 School Councillor, elected in a by election today! Check out the minutes from our latest meeting HERE!
Pupil Voice
Recently, we consulted with the children to rename our house teams. The children (and parents) final choice were Adlington (Rebecca Adlington), Mandela (Nelson Mandela), Rowling (JK Rowling) and Hawing (Prof Stephen Hawking).
We wrote to each of them (except Mandela!) and informed them they had been selected to have House Teams named in their honour etc etc.
Just before Christmas, we received a response from Prof Stephen Hawking! It came from The University of Cambridge, Department of Applied Mathematics and Theoretical Physics. Inside was a letter from Prof Hawking and a book he has written to add to our library!
As you can imagine, this was very exciting. Here is a picture of Hawking team captains, Olivia and Rocco, proudly displaying our letter and new book!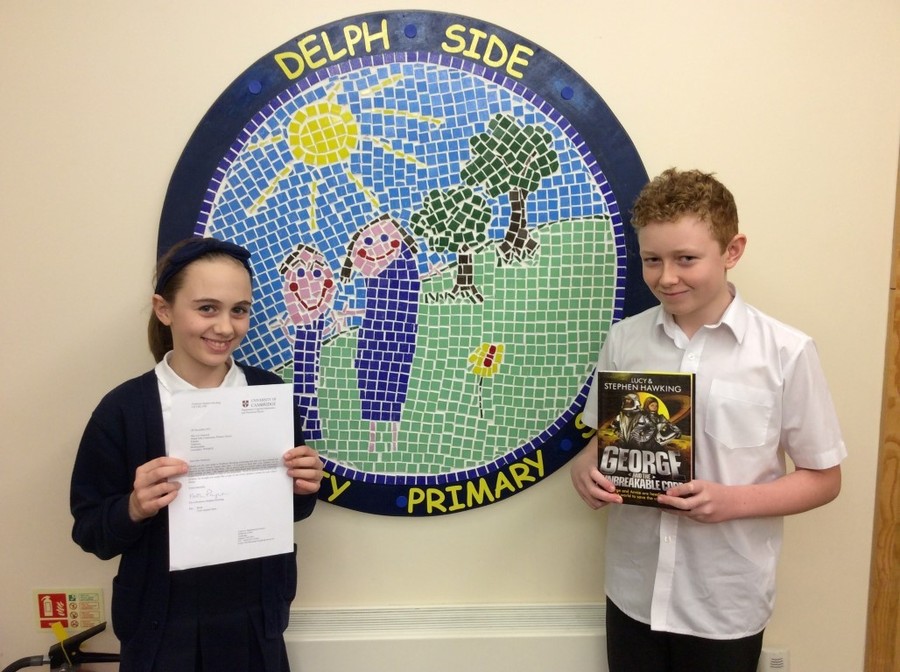 Pupil Parliament - Council Offices
Abi and Ben this years Pupil Parliament represented Delph Side at the council offices in Ormskirk.
Pupil Parliament
Abi and Ben our Pupil Parliament created a presentation to other children of Skelmersdale of what Delph Side School Council and Green Team decided at the meeting on 26/11/15. Their aim is to raise awareness of the Skelmersdale Food Bank and organise a collection before Christmas. They also took the school vote of which playground.....Option 4! Well done Ben and Abi, the School Council and Green Team. What a fantastic team!!
Your new council!
Here are the new members of the school council! You can check out the minutes of the meeting at the bottom of this page or by clicking HERE!
Council Notice Board
Do you know where to find the school council notice board?
The School Council
We are here to listen to our class friends and try and make a difference in school.
The Post Box
If you are worried about anything, write it here and Mrs Lock, our learning mentor, will try to help. Remember to write your name.
Any ideas or suggestions you have to raise funds for school or anything you would like to change in school speak to your class school councillor. Meetings take place every two weeks (check out the notice board for the day).